How can humans, machines and artificial intelligence become partners in the workplace?
Innovations in artificial intelligence (AI), automation and robotics are transforming our workplaces and workforce, which in turn, poses new challenges and opportunities for our education system.
Are our schools and universities ready to respond to the disruption that is already changing the jobs we do, and how and where we work? As industrial robots join the workforce, future professions will demand multi-faceted, creative workers who can think across disciplines.
What will higher education look like next year…or 10 years from now?
Join us for this presentation by Randy Swearer, VP of education at Autodesk. He'll take us on a journey through the history and purpose of the existing system, and discuss the importance of developing new ways of learning—both inside and outside of traditional educational institutions—that help graduates adapt to changing professions and new skills requirements.
It's time for humans, machines and artificial intelligence to become partners in the workplace.
Moderator:
Krista Jones, Managing Director at MaRS Work & Learning
Krista has been a passionate innovator and builder of technology-based businesses for over 25 years, and has personally advised and been actively involved in over 200 startups.
For the past four years, Krista has been the driving force behind the creation of MaRS' globally-leading Work & Learning sector. She works with entrepreneurs, corporate leaders, investors and technologists who are applying innovation and cutting-edge technologies to create solutions that are advancing the competitiveness of global workers and workplaces.
Krista has experience working in both large public companies and in startups. She is an engineer, entrepreneur, mentor and an expert at solving ambiguous problems. She has a unique combination of strategic, technical, operational and marketing expertise. She is known for her comprehensive knowledge of existing and emerging Information & Communications Technology (ICT) architectures, technologies and innovation practices.
Speaker: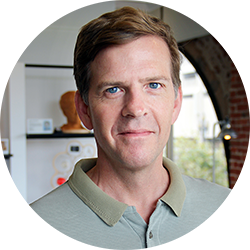 Dr. Randy Swearer, Vice-president of Autodesk's global education team
Dr. Randy Swearer is the vice-president for Autodesk's global education team. In this role, Swearer empowers students on a journey of lifelong learning through problem-solving, collaboration and design thinking.
Prior to Autodesk, Swearer was dean of Parsons School of Design and provost at Philadelphia University, so he brings with him a breadth of experience in education. He also served as the deputy director of the design program for the National Endowment for the Arts and was the design division head in the College of Fine Arts at the University of Texas. During his time at the latter, he was awarded a Texas Excellence Teaching Prize.
With a foundation in technology, Swearer was a senior designer and supervisor at Wang Laboratories and senior communications specialist at IBM. Swearer is also active on the speaker circuit, having lectured widely on design, planning, and community identity issues.
He has served on national juries for The National Building Museum, the Harvard Graduate School of Design, Yale University and the American Institute of Architects.
Swearer received his PhD in anthropology and urban studies from Union Institute, an MFA in design from Yale University and a BA from Wesleyan University.
Back to all