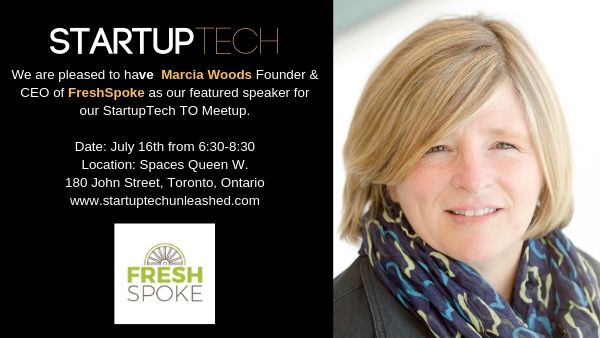 Come for the Pizza & the Networking! Get a chance to meet some great people learn about some amazing startups.
Register for event here: Event cost: $15 on Eventbrite and $20 at the door.:
Use discount code: STUTO50OFF
(To get 50% off your ticket price for a limited time)
—————————————————————————–
Featured speaker: Marcia Woods Founder & CEO of FeshSpoke.com
What is FreshSpoke all about:  It's a local food logistics platform that connects buyer and seller with a set of easy to use features designed to simplify order, payment, and delivery for local food suppliers and wholesale buyers. FreshSpoke's delivery system takes advantage of excess capacity giving commercial drivers – including local food suppliers – the ability to make extra income delivering local food. FreshSpoke is available as a web and mobile app.
—————————————————————————–
The structure of the event is below:
Our structure is we host an informal fireside chat with a featured speaker, Q & A session and open networking.
6:30: Doors open, Registration start's and open networking till 7 pm
7:01 pm-7:09 pm: Introductions to StartupTech Unleashed & sponsors
7:10 pm-8:00 pm: Interview & Q&A session with our featured speaker.
7:40 pm- 8:30 pm: Open networking.
8:30 pm: Closing remarks.
—————————————————–
If you're driving to the meetup, offer your ride on Port and fill your empty seats. Make $$$. Need a ride from your city to the meetup? Get there starting at $10 from your city.  Download at www.portapp.co
——————————————————-
What we are all about:

This is a perfect event to network with fellow entrepreneurs, startup founders, tech enthusiasts or to just meet new people. Grab a bite and have a great night!

Who are our members:

Our events are great for Startups and businesses of all stages of growth our members range from the following tech circles:

• RealTech • MarTech • CleanTech • FinTech • MedTech • EdTech • Wearables • AR/V • IOT • Big Data and so much more.
———————————————————-
Sponsors:

We would like to thank all our sponsors for helping make the StartupTech Unleashed events possible.

Spaces: They offers an inspiring work environment for professionals and growing businesses. In addition to office space, there are memberships and meeting rooms to help you think, create and cooperate with like-minded people. Spaces' goal is to offer inspirational surroundings with an entrepreneurial spirit where ideas are born, a company can evolve and valuable relationships are built.

Port: It doesn't have to be so hard to commute between cities. No more detours. No more wasting hours waiting for the next bus. And no more fixed schedules. Travel between cities and events in half the time and half the price of public transit with Port.
———————–
Disclaimer: By signing up or attending any STU meetup event, you agree that StartupTech Unleashed may record or photograph the Event, (including You, your likeness, voice, image and any guest you bring), and use it publicly or privately in any form of media, including for commercial purposes. The date, time and locations are subject to change without notice. We do not offer refunds however if you are unable to attend we may be able to provide you a ticket to another event. If you have any questions please do not hesitate to contact us.
Back to all