Mallopoly takes on the GTA's rapid growth, particularly around shopping malls (image courtesy of Michael Piper)
Written by Romi Levine
That's what Michael Piper, architect and assistant professor at U of T's John H. Daniels Faculty of Architecture, Landscape, and Design and two alumni – Zoe Renaud and Emma Dunn – had in mind when designing their take on the classic Hasbro game, Monopoly.
Their version – Mallopoly – takes on the GTA's rapid growth, particularly around shopping malls.
The game, which exists as a concept on a website, maps out a region from Mississauga in the west to Pickering in the east, and Vaughan in the north to the downtown core in the south.
Players will have to build around mall sites, using game pieces like condos, civic centres, big box complexes and townhouses – rather than Monopoly's houses and hotels. 
Urban planning in Toronto's suburbs is very different from the city's downtown core, says Piper.
"Malls are at the centre of our growth centres around the city, and the buildings gather up around them," he says.
Just like real-life developments, malls in the game that have access to transit or highways are of higher value – as outlined in their property cards, says Piper.
The concept for the game came out of two studio courses taught by Piper. Renaud and Dunn – who were students in the first course – went on to assist Piper in developing the game further.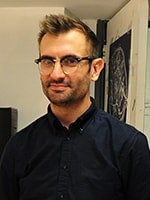 "One of the things I really enjoyed is finding students who are interested in the research and in collaborating beyond their classwork," says Piper.
Piper, Renaud and Dunn found Toronto's suburbs to be particularly fascinating because they all came to U of T from outside Toronto – the United States, Montreal and the United Kingdom respectively.  
"Our experience of the city is not tainted by nostalgia. We can look at it a bit more objectively," says Renaud who received her master's in architecture and is now working as an architect in the Netherlands.
So how does one win Mallopoly?
"I'm trying to resolve this conundrum," says Piper.
If the game is played using Monopoly's principles, the aim would be to take over the board with various properties while earning as much money as possible. But perhaps, says Piper, that's not the right lesson to learn.
"If you impose your ideals on the game, which are maybe not about money-grabbing, it's going to make it less fun to play," he says. "So the question is how do you create an ideal while still maintaining the fun-ness that comes with competition?"
Piper is interested in reaching a wider audience with the game. A physical board game inspired by the concept is in the works. 
"I like the idea of anyone being able to play the game, and by playing the game understand what affects how things happen," he says.
Gamifying urban planning and growth enables players to better understand these complicated concepts, says Renaud.
"It's a different language that's more accessible to a wider public, and in that way, it enables an interest in their surroundings."
But most importantly, says Piper, the game could be played by architects, planners, designers and students to become more aware of the wider impact of the projects they work on.
"What we do affects how a region is made," he says.  
"Collective benefit is not necessarily mutually exclusive to private profit, and I think if there was an ambition, it would be to demonstrate that possibility."
[Source]